Customizing URLs for Landing Pages built in the Airtory Studio
Customizing URLs for Landing Pages built in the Airtory Studio
By Sonal Agrawal
updated 2 months ago
In this article, we will be telling you how to customize the URL of a Landing Page or Microsite built using the Airtory Studio.
Adding A Custom Domain:
Click on the Settings wheel on the top right of the Landing Page Builder within the Airtory Studio

On clicking that, a pop-up appears where the "Enable custom domain" should be toggled to the ON position

On this pop-up window, you can:

Enter a custom domain or sub-domain which you own
On clicking the Continue button, the domain will appear in the available domains list

The system attempts to auto-verify the new domain added and change the status from INACTIVE to ACTIVE

You can also verify the new domain manually, by clicking on the hamburger icon against each domain and selecting the Verify option

From the domains added, at any point in time, you can change the default domain, which would automatically be the domain for all the Landing Pages created within your Airtory Studio account.

Once the domain has been added to the main Settings, you can now change the domain of any Landing Page created in the Airtory Studio.

After publishing the Landing Page, click on the Settings wheel where the Landing Page is listed
From the pop-up, you can select any of the ACTIVE domains and the Landing Page URL will be updated
On selecting the required domain, the Published URL automatically updates

You can also select the domain under General Settings when creating a Landing Page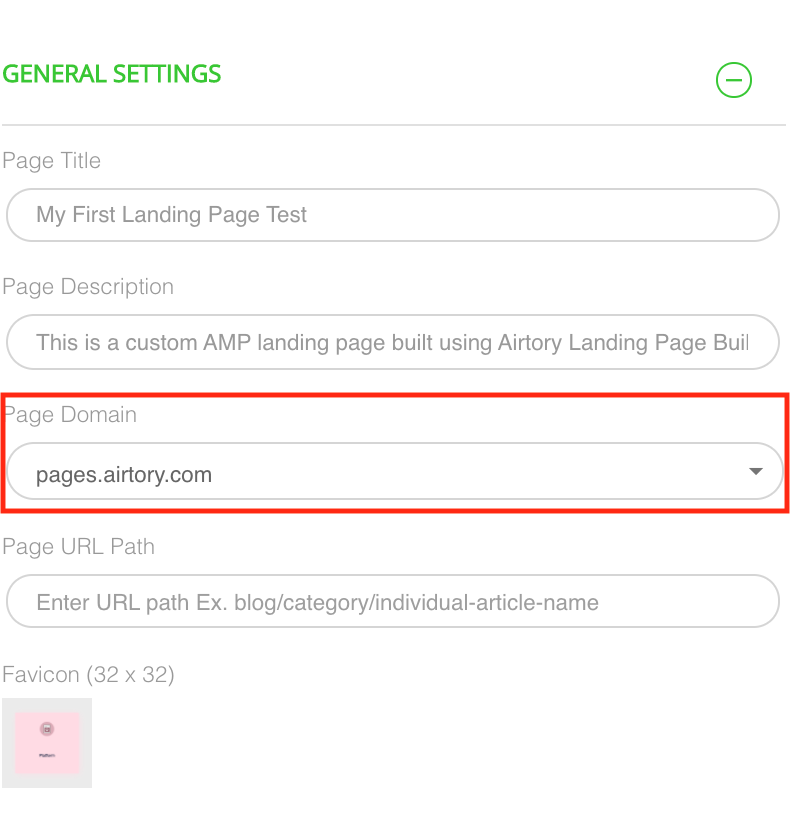 Customizing the Page URL Path:
The default URL path for each Landing Page created within the Airtory Studio is CampaignName/LandingPageName

This can be edited from the General Settings section while setting up the Landing Page
Hope this article was helpful. Please feel free to write to us at support@airtory.com for any queries.
Did this answer your question?