How to Set Up Trackers in the Airtory Studio
How to Set Up Trackers in the Airtory Studio
By Pratisha Panda
updated about 1 month ago
You can set up Trackers within the Airtory Studio to track Impressions, Clicks, and Viewability of your ad campaigns. You can also set up Conversion Trackers to assess the last-mile success of your ad campaign on your landing page or website.
Follow the below steps to set up a Tracker in the Airtory Studio:
Click on

Trackers

in the left panel of the Airtory Studio.

Click on

+

on the bottom right. And click on

New Tracker

to create a single tracker. Alternately, you can upload multiple trackers by clicking on Bulk Upload.

If you want to upload more than one tracker in a single go, click on Bulk Upload.
You can choose your tracker type and upload the trackers in the preformatted Excel file. There are also samples available for Impressions, Click, and Conversion Trackers for your reference.
When setting up a single Tracker, after clicking on

New Tracker

a pop-up will appear like the below image. Fill in the

Tracker's Name

. Click on

Tracker Type

to select the type of tracker you want to set up. There are four types of trackers: Viewability, Conversion, Impression, and Click.

Then Fill in the

Publisher's Name

and

Advertiser's Name

and click on

Create

. Your tracker is created and you can find it in the list of trackers. Additionally, you can search your tracker in the search bar on the top of the page by

Advertiser name

,

Publisher Name

,

Tracker Type,

and

Name

.

Once you find your tracker, click on

Integration Code

. You will find your Tracking Code in a pop-up box. You can copy the Tracker Code and place it in the respective ad or page which needs to be tracked.



Below is how you can set up each Tracker:
Conversion Tracker

: This is used to track a particular user action on a Website or Landing Page. For eg: filling a form or performing a purchase. If you have selected Conversion Tracker, you will see the below:

You can copy the Conversion Tag and paste it on the page where you want to track the particular user action.

Viewability Tracker

: This is used to track the viewable impression of an Ad on a particular webpage.

When setting up a Viewability Tracker, you can set the value of the percentage of the ad in the viewport and for how many seconds. The ad impression will be considered as viewed only if it meets the criteria set here.
You can copy the Javascript code or the HTML Code basis your requirement

.

Impression Tracker: This is used to track the Impression of an Ad.

You can copy the

Postback Code

, J

avascript code,

or the

HTML Code

basis your requirements.
Click Tracker: This is used to track the Clicks on an Ad.

You can copy the

REDIRECT_URL

,

Postback Code

,

Javascript code,

or the

HTML Code

basis your requirements.
With Airtory Trackers you can track ad and campaign performance for multiple ads which are not made on the Airtory Studio. Using the Conversion Tracker, you can know the number of users who have performed a particular action on your Landing Page.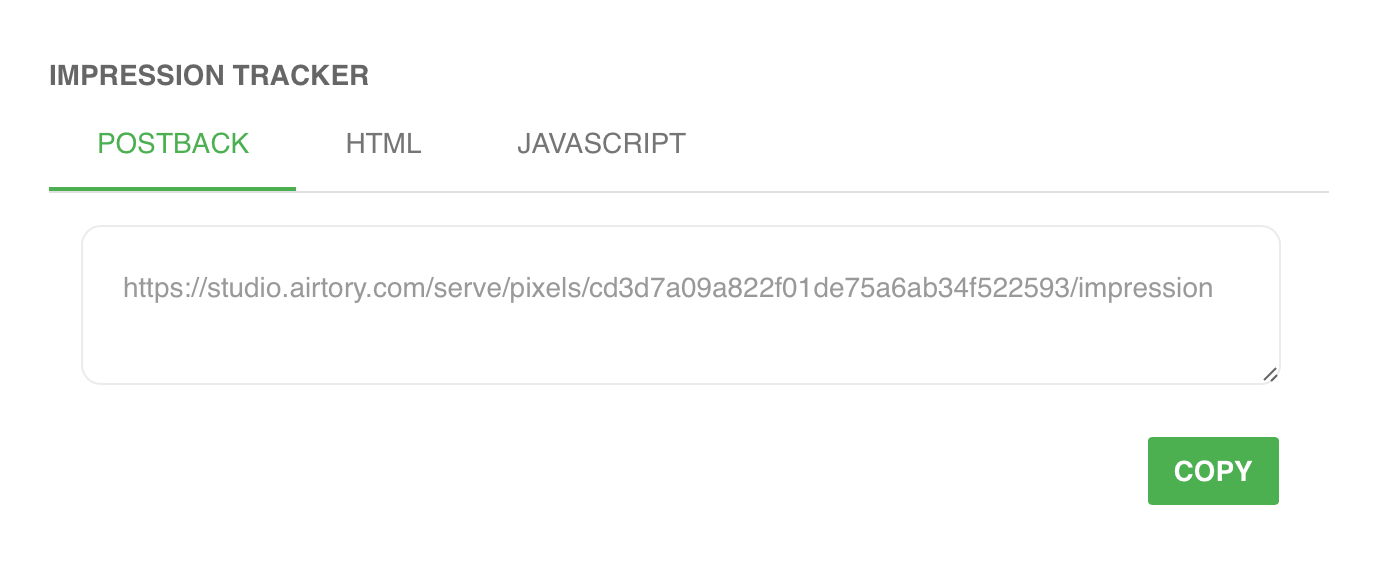 Did this answer your question?