Exporting Display Ads in the Airtory Studio
Exporting Display Ads in the Airtory Studio
By Sonal Agrawal
updated about 2 months ago
After completing the creative setup process, the ad is now ready to be Exported and implemented.
Follow the below steps to get a ready-to-use Ad Tag from the Airtory Studio.
Once the creative is made, your screen will look like the below, where you can see: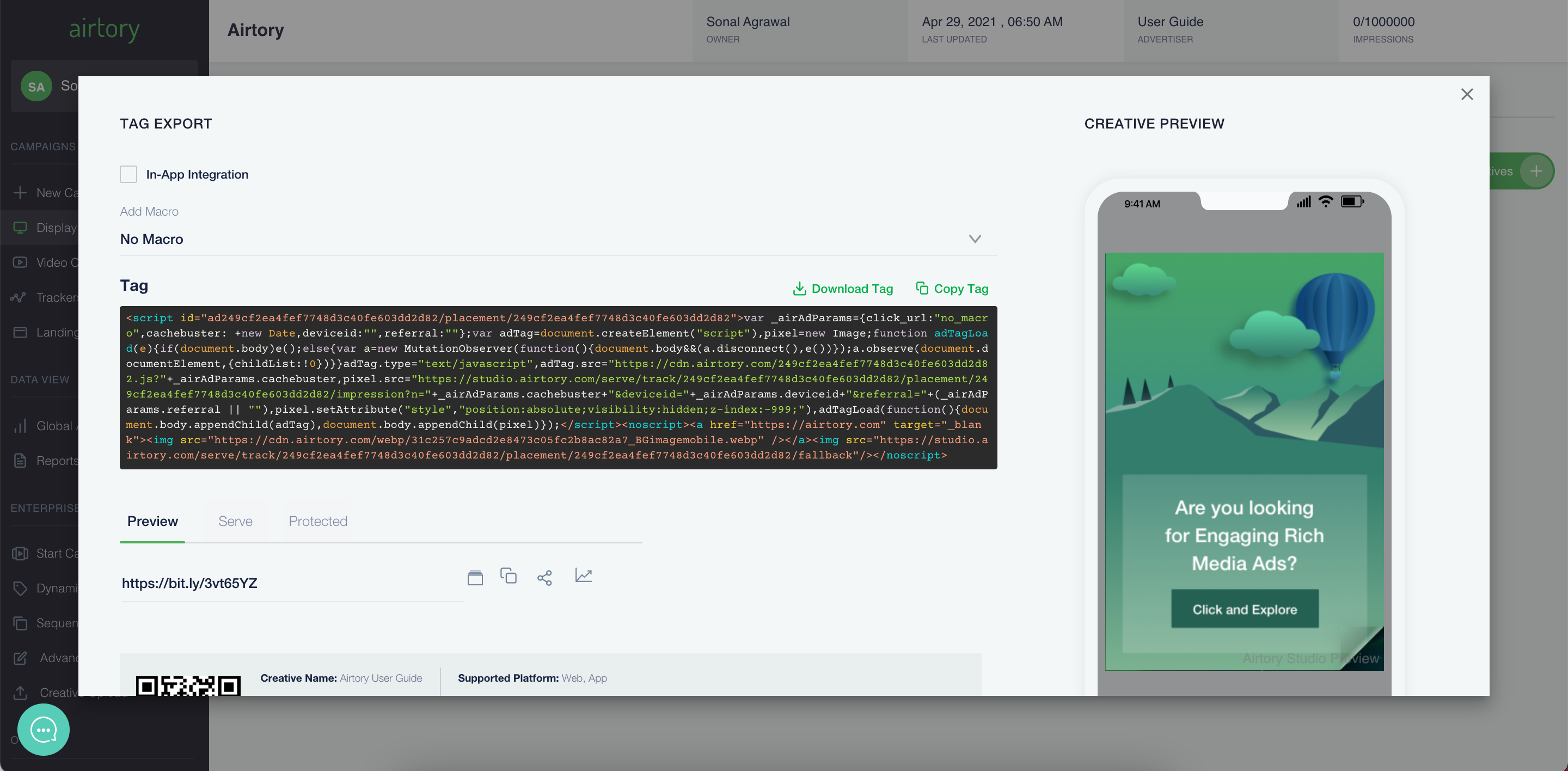 The preview of the creative

Shareable preview link of the creative

You can also generate a PIN-protected preview URL to share the creative preview with only a selected audience

QR Code to view the creative on a mobile device on scanning

The Ad Tag has default Macros inserted. However, for specific media partners, the Macros vary:

Before Copying the Ad Tag, select the media partner being used for trafficking the campaign from the drop-down menu

On selecting, the respective Macros will automatically be inserted

If the creative is going to be served in-app, please check the in-app integration box

Once done, you can download the Ad Tag by clicking the DOWNLOAD TAG button
The Ad Tag can be copied onto the clipboard by clicking on the COPY TAG button

There is also a direct link to the Statistics page of this particular creative from this page

All Ad Tags of a particular campaign can be downloaded from the Campaign Summary Page

Click on the DOWNLOAD button to download the Ad Tags of all creatives in that particular campaign in an Excel fileOn exporting the ad tags, you can implement it within the dashboard of your chosen media partner – DSPs or direct publishers.
Did this answer your question?